This guest post is brought to you by Jason Moorhead, if you fancy trying you hand at blogging check out our guest posting opportunities.
This doc will show how to update the fabric operating system (FOS) on a Brocade fibre channel switch using Brocade Network Advisor (BNA). Last I heard, BNA is free for non-Director class switches, and is infinitely easier than using the FTP method to do upgrades. One huge benefit is that you can update multiple switches (like say an entire fabric) at once. If you're in a large organization that has dual redundant fabrics, you can update dozens of switches at once.
Assuming you have a BNA installation already, the high level steps are as follows:
Download firmware from brocade.com
Go into Firmware management in BNA and upload firmware file and md5
Select the switches you want to update, and what version you want each one to go to
Click "download"
A couple things to remember here… First off, make sure you save off the md5 file when you download the firmware file. Second, only upgrade one major version at a time. For example you cannot go from 7.0.x directly to 7.4.2c. The upgrade path here is 7.0.x -> 7.1.x -> 7.2.x -> 7.3.x -> 7.4.2c.
Now let's run through the steps in detail.
1 Download firmware and md5 from brocade.com
Search for the firmware you require at the Brocade download area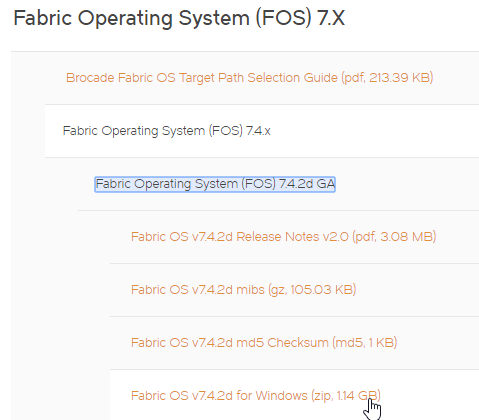 2 Upload firmware into Brocade Network ADVISOR repository
Open up BNA and click on Firmware Management from the configure menu
Click on "import" to add the recently downloaded firmware version to the BNA repository
Enter the location for the firmware .zip and .md5 file then hit OK
You will see the following checks being performed
If all goes well you should see the success message below
3 Choose Brocade switches for firmware update
A list of all switches in BNA is on the left. Highlight the switches you want to upgrade, and click the right arrow to add them to the active list. For each selected switch, choose the firmware version you want to install on the switch, keeping in mind you cannot upgrade more than one major version at a time. If you need to go from 7.2 to 7.4, you would need to run this upgrade twice.
Once everything looks good, click "Download". BNA will then take care of all the uploading of data, and run through all the various upgrade tasks that often need to be done manually with the FTP method of upgrading switch firmware, including all reboots.
The process will update you in the status window, and eventually tell you the switch has been upgraded. You can then keep the same switches chosen, to do another major version upgrade, or choose a new set of switches.