I visited the VeeamON forum a couple of weeks ago and wrote a post on Veeam Version 10 what's new. One of the other interesting sessions at the event was a presentation on best practices to ensure Veeam Performance Optimisation. I made some notes during the session that I wanted to share to help you get the best performance from Veeam.
Choose the correct backup mode
Forward incremental was recommended as the best general backup mode. In this mode an initial full is created with the first backup, then incrementals for all future backups after this time.
Reverse incremental were recommended for long backup chains, but since the most recent backup point is always a full created by injecting the changed blocks this is an I/O intensive process and slower versus forward incremental.
I have found that jobs which suffer from slow merge times can be improved by scheduling an Active Full. Whilst clearly the Active Full will take some time the incremental backups will no longer require a merge and be much quicker.
Transport Mode
Within the proxy server settings you have a choice of several different transport modes which determine how the data is copied. They are listed below in order of speed from fastest to slowest.
Direct storage access – This mode requires a physical or virtual proxy server, which has direct access to the production data via software or hardware HBA. Although a VM can be used, using a physical server is highly recommended. This is the fastest option allowing all backup data to be transported directly across the SAN
Virtual appliance – This method requires a VM running the proxy role. The VM proxy hot adds the disks that need backing up enabling data to go directly from the datastore eliminating the network
Network – This is the least restrictive method and requires no additional setup or infrastructure. Like in a traditional backup data is copied across the LAN. Although this has generally been considered the slowest, 10Gb is changing this
Repository
Consider the performance characteristics of the storage you are using for your repository. RAID choices were mentioned, if you are using a modern storage system things are not going to be so simplistic as changing RAID types to improve performance. My take home from this point was just make sure your particular storage is optimally configured.
Also be sure to check out this Webinar I did with Veeam covering optimising 3PAR performance.
Proxy Affinity
Allows you to assign backup proxies to specific repositories. This could be useful to ensure the proxy in the correct geographic location is used or to ensure proxies with the best connection speed to a repository are utilised. This is set by right clicking a backup repository and choosing proxy affinity.
Per VM backup files
Prior to Veeam version 9 a single backup file was created for all the VM's in a job when creating a recovery point. Per VM backups chains, means that each VM in a job creates its own backup chain. The positive impact of this is that more writes can be processed in parallel allowing for greater throughput. This feature is enabled at the repository level within the advanced repository settings.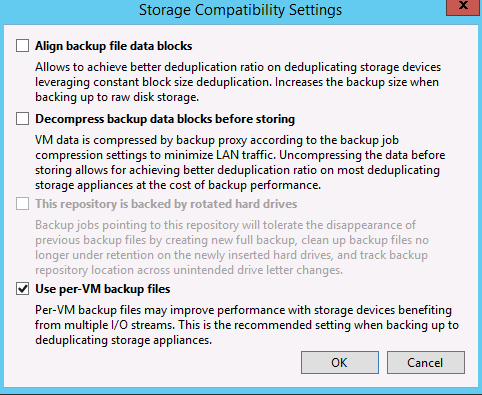 Parallel Processing
Enables multiple backup tasks to be completed simultaneously rather than waiting for serial processing, again this allows greater throughput. This is enabled by default and set in general options
Backup I/O control
This may seem counterintuitive to limit the storage repository but once any storage device becomes over busy and writes start to queue performance can degrade exponentially. By limiting the throughput in cases where high latency has been seen, it may in fact allow writes to be committed in a more timely fashion. This is set in general options and can be seen in the screenshot above in which you set a latency threshold in ms above which the setting kicks in.
Hyper-V RCT (Resilient Change Tracking)
Veeam is able to use Hyper-V native CBT Resilient Changed Tracking if the following criteria are met:
All hosts are Hyper-V Server 2016 in cluster
Cluster functional level is 2016
VM config is version 8
ReFS
Which stands for Resilient File System is the name for the new Windows file system introduced with Windows Server 2016. When integrated with Veeam it offers the opportunity to significantly reduce the time backups take. Synthetic full backups and the Veeam transform process require a significant amount of moving blocks around to create the backup file. This is an I/O intensive process and takes time to complete, relative to the performance of the underlying storage. When using ReFS the physical movement of blocks is no longer necessary, by harnessing the MS fast cloning capability pointers are simply updated.
If you want to learn more about Veeam be sure e sure to check out The VeeamON Virtual Tour. This is a free online event in which you can learn the latest information about data protection and specifically Veeam.